I can't tell you how many times I've heard someone say that they want to get into comics but they have no idea how to or where to start. Well that's where I come in. I like to consider myself an expert on the subject and would be happy to teach or guide you however I can. The comments section is open for a reason and you can always contact me on Facebook if anyone has any questions for me or my fellow writers. What I plan on doing in this series of article is going through the history, themes, stories and characters of comics. My hope is that instead of seeing 78 years and millions of issues to catch up on, you'll find that comics are something that changes as much as the times around them. So let's get down to it.
Comics are for all of us.
A few weeks ago, A friend of mine was asking questions about comics and he asked me a question that I hadn't truly thought about : Why do you love Comics? It took me a while to answer him and I came up with 2 answers.
I have to say that what I truly enjoy about comics is the idea of a Hero. Someone who is willing to drop everything and use the abilities they have to help others. Sure, there are anti-heroes and villains out there that I enjoy reading but at the heart of it, Heroes are my favorite part of comics.
I love that there are comics for everyone, there's a connection between everyone who reads that we are akin to the great world travelers but we, instead, have gone to other worlds and seen phenomenal things in our minds eye.
So how can others get in on this?
Well first and foremost, if you're reading this then you can read comics. Congratulations! From the 3 year old learning words through an issue of Archie's Digest  to the physicist that can't wait for the next issue of Avatarex by Grant Morrison, comics are truly a medium that's open for everyone and let me go ahead and make something abundantly clear to all of our readers : No matter what we say or how much we write against something, never let it affect your thinking about a subject. Seriously, do you like a comic that I hate? That's awesome, let's talk about it like good, intelligent people. No hate spewing or arguments that can't go beyond "Ugh, it's stupid." I enjoy friendly debates but I can't stand it when people don't know how to defend their points. So knowing that this subject is open to all readers then let's get started.
In Recent years Comics and their many characters have taken on a new life, primarily on our film and television screens, and it's a great time to get in on the stories. The question of where to start is a very broad one but when it really comes down to it, it's up to you: The Reader. Who are your favorite characters? Which ones interest you? Are there certain creators or storylines you've heard of? These are the questions that everyone asks sooner or later and I was no different. Growing up in the late 90's and early 00's Marvel was at a cinematic Golden Age with The early X-Men and Spider-Man films being received fairly well by critics and fans alike but none of that really mattered to an 8 year old. I loved seeing the different characters interact and I watched shows like Justice League and X-Men : Evolution every chance I could and I craved more of these wild, ambitious stories. So I went to the library and picked out two books that would ultimately change my entire life and really be the first stepping stones to leading us here : Essential X-Men Vol. 2 by Chris Claremont, John Byrne and Terry Austin and Marvels by Kurt Busiek and Alex Ross, using these books I learned more about the X-Men and the Marvel universe as a whole. You have to begin with what is familiar to you and to what you enjoy. So when it comes to reading older stories the best thing to do is pick up a few of characters that you love and go from there. Not everything's gonna be great but you never know until you read it.
So, in closing out this first segment, read what looks good. You just have to start somewhere, I'm gonna give you a few titles that are great for first timers and might give you a good starting point for some great characters. If you don't like these then try out a few different ones. Like I said, Comics are for everyone.
Recommended Reading
Marvel Comics :
Hawkeye : My Life as A Weapon by Matt Fraction and David Aja.
This is a great opening arc of a fairly short run of comics that focuses on what Clint Barton does when he's not with the Avengers. He's still great and although his personal life is very different than it is in the films but it's still pretty accessible for new readers.
Marvels By Kurt Busiek and Alex Ross.
This is a great book for literally anyone. The art in it is similar to a still life painting and the characterization is exceptional. Busiek makes you care for Phil Sheldon as you would any of the main Marvel characters and you get to see a different side of the story, The side of the civilians and their reactions to the many different strange and wondrous things that happen in the long history of the Marvel universe.
Marvel Masterworks : Amazing Spider-Man Vol. 1 by Stan Lee and Steve Ditko.
Here is where you'll get a great start on Spider-Man and you get to read some stories by "The Man" himself. The first few issues in this Graphic Novel have some great villainous appearances from the likes of Doctor Octopus, The Lizard, Sandman, The Chameleon and many others.
DC Comics :
Superman : Secret Origin by Geoff Johns and Gary Frank
I'm a bit biased on this one because this is probably my second or third favorite comic story of all time. It's a story split up into six different parts each focusing on a different aspect of Superman's life. Starting with his time as Superboy and leading up to him finally saving Metropolis and changing the town for the better. It's a good introduction of the characters surrounding Superman like Lois Lane and Jimmy Olsen and villains like Metallo and Parasite. The true power of this story comes from the characterization of Superman and Lex Luthor, Luthor will always be my favorite DC Villain and this story is one of the main reasons for that. He is the antithesis to Superman in every way possible and I think that's why he works so well, even if he's written in the light of someone trying to be a better person he still goes about it in a way that is completely different from the way Clark would handle it. This story is just an all around great introduction to every character featured in it.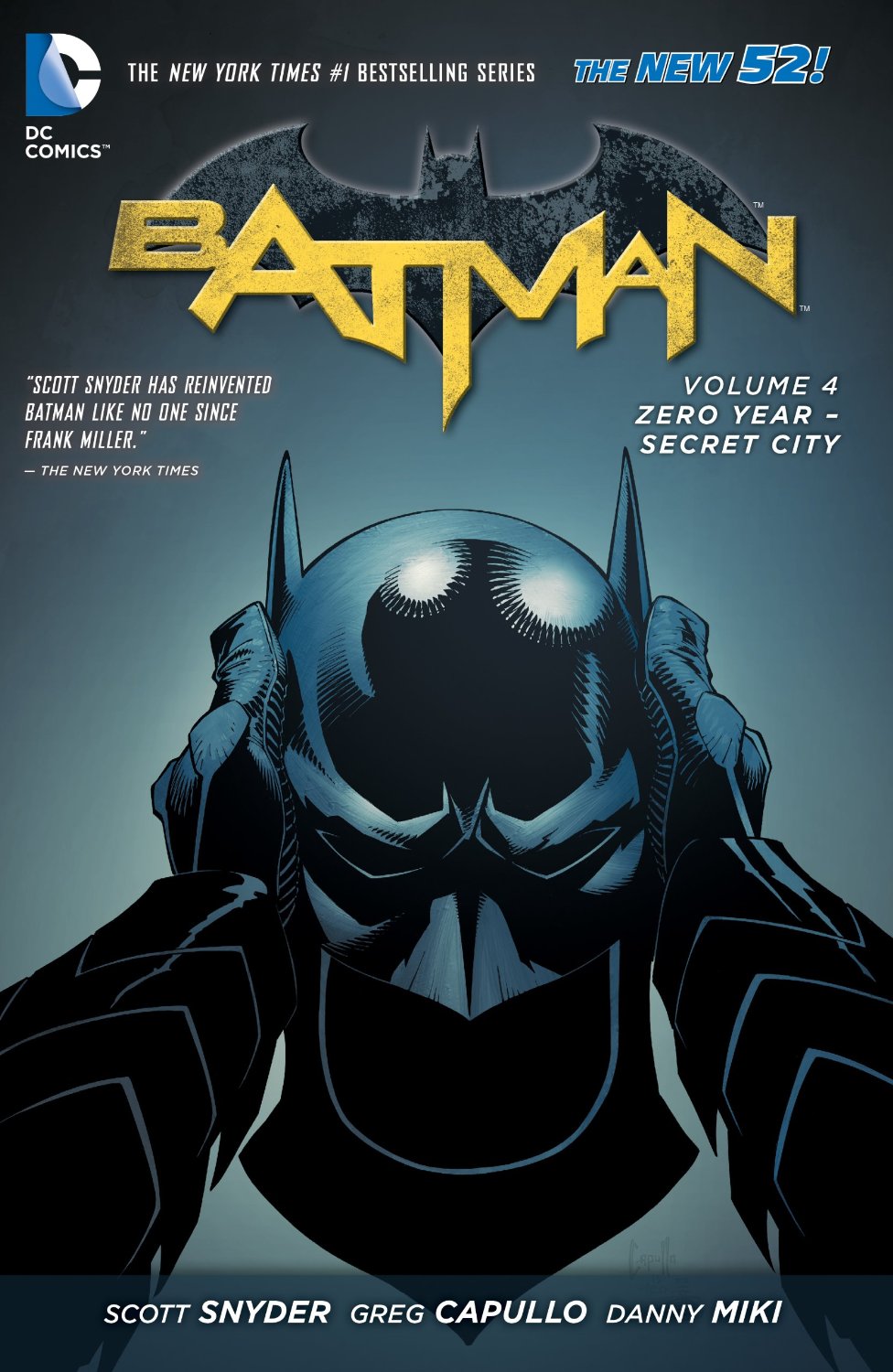 Batman : Zero Year by Scott Snyder and Greg Capullo
Going from one of my favorites to one of WiseSage's favorites. Scott Snyder is clearly the greatest writer of modern comics, This will be viewed as blasphemy to many readers and I can understand that you may like other writers better but you can't deny that Snyder is the King. This story is arguably his best, It's a newer origin for Batman but it works so well because it doesn't focus on the boy in the alley, it focuses on the man in the mansion. Instead of rehashing scene after scene of the pearls dropping he gets into the head of a man who has to overcome a terrible tragedy and become the hero that his city needs. I also love that it uses flashbacks to tell the origin instead of telling it chronologically, it works really well and makes it exciting and accessible to read.
New Teen Titans Vol. 1 by Marv Wolfman and George Perez
My generation had Teen Titans on Cartoon Network and now a younger generation has Teen Titans Go! both are great in my opinion for vastly different reasons but that's an article for another time. The stories in this book are a great start for anyone looking to read some great Teen Titans fun, It starts off by bringing the team together and then it was during a time where each issue had a different villain so you get a good summary of their rogues gallery throughout the series.