Seriously, stop now if you haven't watched the newest episode…Huge, Massive Spoilers!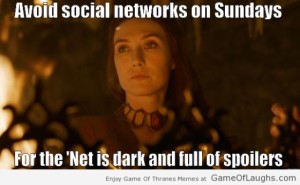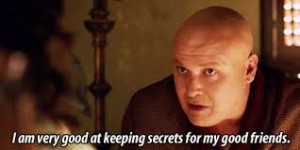 Alright, everybody good? We all avoided the craziness? Good. Let's get to it.
For those of you that don't know, Game Of Thrones is my favorite show and one of my favorite fandoms of all time. Every character is complex and brilliantly written, the surprises are done well and the plot never drags to me. It's an amazing series.
From the show perspective, this season was the first season that I was actually anxious about. The show has finally caught up to the books and now everything that happened tonight(except for Arya) is brand new and exciting. So let's get right into it.
Starting off at the wall was a very smart move on their part, picking right after the death of Jon Snow. They even surprised me there by only having a small group being in on his death. When I first watched it, I figured the entire Watch turned on him and they just chose those few to commit the act. Instead, it's a solid mutiny of just a few.
Davos, Edd and a few of the other brothers get Jon to a safe room with Ghost and they prepare to defend his body against anything and anyone. They make plans to unite the wildlings and fight against Thorne and the other traitors. I'm very excited to see where this goes from here. Will Jon Snow return? Will he stay dead? We'll focus more on this later.
Then we have to suffer through the Boltons being the Boltons. They are absolutely the worst characters on this show. Brilliant actors, terrible characters.
Then, we finally get something decently happy for a change. Theon and Sansa escape from the Boltons with the help of Brienne and Podrick. It's a great scene and I love that Pod helped Sansa with the vows for Brienne, it really humanized her character in a way that we don't get to see very often from her. It's been one step forward and four steps back for Sansa since the end of Season 1 so hopefully we can actually enjoy this for a while.
We then see the best acted scene of the episode, Lena Headey as Cersei manages to turn this woman who has been an absolute monster into someone who is truly vulnerable and heartbroken. Her speech about Myrcella's death nearly had me tear up. Her and Nikolaj Coster Waldau play off of each other very well and it's at it's best here.
Next up is Margarey Tyrell asking about her brother while getting the exact same treatment that Cersei got. Not a lot happens in this scene but Natalie Dormer and Jonathan Pryce are both great so I wasn't upset seeing them on screen again.
Ah, now we've come to the most heartbreaking part of the entire episode. Dorne. Ellaria Sand and the Sand Snakes are all great characters but I hated to see Doran die without doing as much as he does in the books and it's even worse to see Alexander Siddig die without getting more Screentime. Truly a tragic scene and then insult to injury is that they kill his son too, immediately after that. So now Dorne is run by The Sand Snakes. I'm not upset about them ruling because it's a Dornish tradition that Man or Woman can rule but I did hate to lose Doran.
Next we catch up with everyone's favorite Dwarf and Eunuch tag team. They're a great pair to see on screen together, they discuss the different matter of Daenerys' enemies and the difficulties of the city in her absence. They can then only watch as what looks to be their entire navy is burned.
Jorah and Darrio each discuss loving Dany and not getting her love in return while they are out looking for her. We're also reminded that Jorah has Greyscale which will kill him soon.
Finally we catch up with Daenerys as she is currently in the Khalasar of Khal Maro. He thinks that she is just another woman for him to enjoy even after she reveals all of her titles and accomplishments. It isn't until she reveals that she was the Wife of Khal Drogo that he shows her some respects but she realizes that she has to return to Vaes Dothrak to live with the other Widows of a Khal instead of returning to rule at Mereen. Emilia Clarke is always amazing and I'm interested to see how she turns this around because if we know anything about her then we know that Daenerys will make it out on top.
We finally return to the Wall to see the Standoff of Davos VS. Thorne. He knows that Thorne is lying and that everyone will be slaughtered like Jon was. He goes on and says that they still have the Red Woman…one of the men asks what can she do against an army…to which Davos responds by saying that they've never seen what she can do.
This is where the show ends, the final scene featuring Melisandre and destroying every man's minds for the next few days. I intentionally didn't mention Melisandre earlier but when she saw Jon, she was utterly heartbroken because she had seen him in the flames, fighting at winterfell. We then see her alone in her room staring into the fire. She turns towards the mirror and disrobes, she takes off her red choker and when we see her again she is no longer the young, vibrant Melisandre, Instead she is now a very old woman that appears to be living through will and magic. She crawls into her bed and goes to sleep.
I truly fear for what this means. To me, she has given up entirely after losing both Stannis and Jon, she has nothing left and nothing left to hide. Only time will tell if I'm right.
I still love this show and can't wait for next week.