*Spoiler Warning! I'm not going to reveal huge plot points but, naturally, I will be talking about certain different characters and their story-arcs so proceed with a little caution*
If anyone has paid any attention to my ramblings over the last year then they should know that I absolutely love Daredevil. It's weird to me because initially it had a lot going against it, such as:
It was a previously failed property being given a second chance, which is something that a lot of people would be hesitant about.
It's entering a crowded market of more crime dramas and more superhero shows.
It takes a grittier tone than what we're used to seeing from Marvel.
It tackles Punisher and Elektra in the second season which is two more previously failed properties.
Yet, despite the odds being stacked against it Daredevil has become one of my favorite shows out there and I think I finally figured out the main reason why I, and the rest of the world like it so much: It has charm. Much like Matt Murdock himself, Daredevil surprises you with being immensely more enjoyable then what you might be expecting. This show has made me laugh, cry, gasp and scream at my television. It takes risks that need to be taken and it builds upon it's brilliant story scene after scene.
I'm not going to talk about the plot as a whole because the story is incredibly well done and you should just take my word for it and go watch it.
Setting.
It has to be talked about that this show just breathes life into the city in a way that I really haven't seen in a long time. It gets some of these perfect camera angles and lighting that makes it seem run-down but then in the very next moment you see a light hit just the right way to where you feel like you do want this city to be saved. I honestly can't explain it as well their production team conveys it so you just have to watch it.
Cinematography/Choreography
In the same manner as the first season, both of these are outstanding in this show. I'm putting them together because in this show, they go hand in hand. The first season had that exceptional hallway fight scene and the second season is even better. Not only is the Stairwell Fight one of the better fight scenes I've seen in a long time but they keep upping the stakes throughout the season by adding The Hand.(A group of Ninja)
This show needs to be nominated for awards just on cinematography alone due to some of the angles they get. What's really great is that you can tell they have a love for this show and they want it to be good. It's the same reason I wasn't worried about the new Star Wars because none of them are doing this just for the paycheck. Which leads me to my next and final point:
Characters/Acting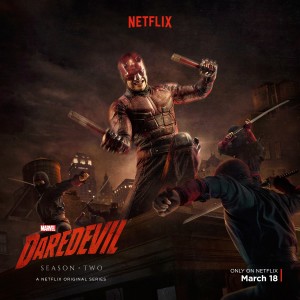 The returning cast is even better than they were in the first season. Charlie Cox is still phenomenal as Matt Murdock/Daredevil as I've said before he can handle the ruthless aggression of the character as well as the charm and wit of the blind lawyer.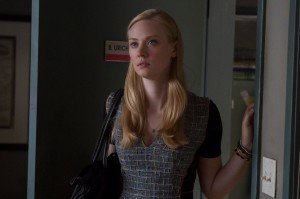 I fall more in love with Deborah Ann Woll every time I see her as Karen Page. She has that fire that Karen needs but she also has a vulnerability that makes her sympathetic. Karen refuses to back down to Injustice, just like Matt and we need more characters like them today.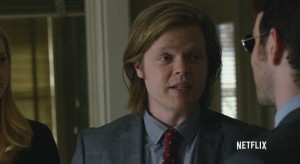 I've heard a lot of people give crap to Elden Henson for his portrayal as Foggy Nelson but I think he's great and he definitely proves that in his multiple trial scenes this season.
Elodie Yung as Elektra is a definite standout. She steals the scene every time she's on the screen and when she's not, you're just hoping she going to come back soon. Elektra only lets her guard down for one person and that's Matt. She's such a great character to learn about and they do a great job with her.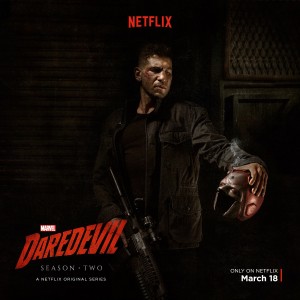 Season 2 takes on the unenviable task of bringing The Punisher back to the screen. This, being the characters fourth attempt at bring brought to life, was a fairly tall order. Frank Castle isn't an easy character to adapt because his story is flawed from the beginning. He's not a hero in the traditional sense and that's what makes him interesting to me in many ways. There are many reasons I didn't like the older versions of The Punisher but one of the main ones was that it wasn't realistic that there would be no consequences to his actions as a vigilante. In this version, no character dies without you noticing it. Every kill of his matters in a way that reminds me more of Sons Of Anarchy than a traditional Superhero show. It's also helped tremendously by the exceptional job done by Jon Bernthal. Everyone keeps talking about the end of Episode 3 which recreates the famous scene from Punisher #3 by Garth Ennis and Steve Dillon with Daredevil tied up in chains and Punisher telling him that he can only save the other mans life if he can shoot frank in the head. Daredevil screams out: "What kind of Choice is that?" And Castle responds: "The one I make every time I pull the trigger"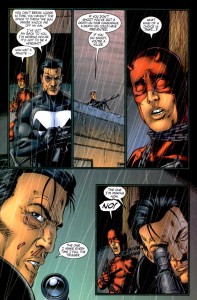 Now, that is one of my all time favorite punisher moments and it was easily my second favorite scene of his but hands down his best scene and possibly the best of the season was his scene at the cemetery. I don't want to spoil the acting ability of Bernthal here so I won't but at the end of Episode 4, there's a ten minute scene between him and Charlie Cox as Daredevil that makes the entire season.
Overall
If you're not watching the Marvel netflix shows then you are definitely missing out. Episode after Episode they only get better. The stakes keep getting higher and the stories only get better.